Guiding a show to an audience is what I do best.
I have made plays, musicals and the Spaceship Kaleidoscope.

SPACE HERE
Here's a video of my early works.
Here are two tastes of Breasts and Jack of Tarts.
Eat five full shows here:
————————————————
Pay no attention to the man behind the curtain.  (Photo: J. Price)
——————
——————
8 SHOWS TO BE DONE (I got dreams!)
JOE'S GARAGE by Frank Zappa
QUEST the odyssey of the first citizen of the world, George Dibbern
KING LEAR:  The Greatest Stage of Fools under the Big Top

LETTERS HOME  Sylvia Plath and her mom, violin and cello
MACBETH PAST MIDNIGHT there will be mud
MILLESGARDEN an opera in thirteen paintings
MISSISSIPPI GODDAMN:  The Music of Nina Simone
CONFESSIONS OF AN ECONOMIC HITMAN by John Perkins
12 DOUBLE-BILLS TO DO
One scene design for two plays.

A DELICATE BALANCE & SYLVIA OR THE GOAT
AMADEUS & EQUUS
AS YOU LIKE IT & THE CURATE SHAKESPEARE AS YOU LIKE IT
BREASTS OF TIRESIAS & SUC DADDY
FIDDLER ON THE ROOF & KING LEAR
JOE'S GARAGE & PASSING STRANGE
JESUS CHRIST SUPERSTAR & GODSPELL
MACBETH & JACK OF TARTS
THE GLASS MENAGERIE & THE BIRTHDAY PARTY
THE TEMPEST & FINDING THE SUN
THE WILD DUCK & THE SEAGULL
WAITING FOR GODOT & THE DIDI PLAYS
—————————-
I am a founding member of the Lower East Side Biography Project which is led by Steve Zehentner and Ms. Penny Arcade.  I made two documentaries about two extraordinary New Yorkers: Historian and friend Al Orensanz and Play-House of the Ridiculous director John Vaccaro (Wanda!).  Enjoy.
———————–
Here's more information about some notable shows:
THE END IS HERE: ENJOY!
written and starring Scotty the Blue Bunny
Directed by Eric Wallach
The culmination of a collaboration between Scotty and I that ran from The Duplex to La Mama and finally found stage at Performance Space 122.
At The Hop
"If you see something, say something" according to the MTA.  Last night I saw a suspiciously wonderful package wearing stilettos and bunny suit.  Of course, it was Scotty the Blue Bunny, performance artist. He has a fantastic show playing tonight at P.S. 122 called, "The End Is Here: Enjoy!"  Directed by Eric Wallach and aided by stage manager Marcella Nova the show is an eclectic mix of singing, dance, blasphemy, belly dancing and even science.  Scotty entertains and educates as he explains the astronomical forces that will eventually lead to the end of the world. Instead of being sad about it, he advised:
We all should be licking each other!
I agree.  What a wonderful way to kick a new year.  Enjoy!
– Nichelle Stephens
THOTH'S THE HERMA
created and prayformed by Thoth

Eric Wallach, co-producer / director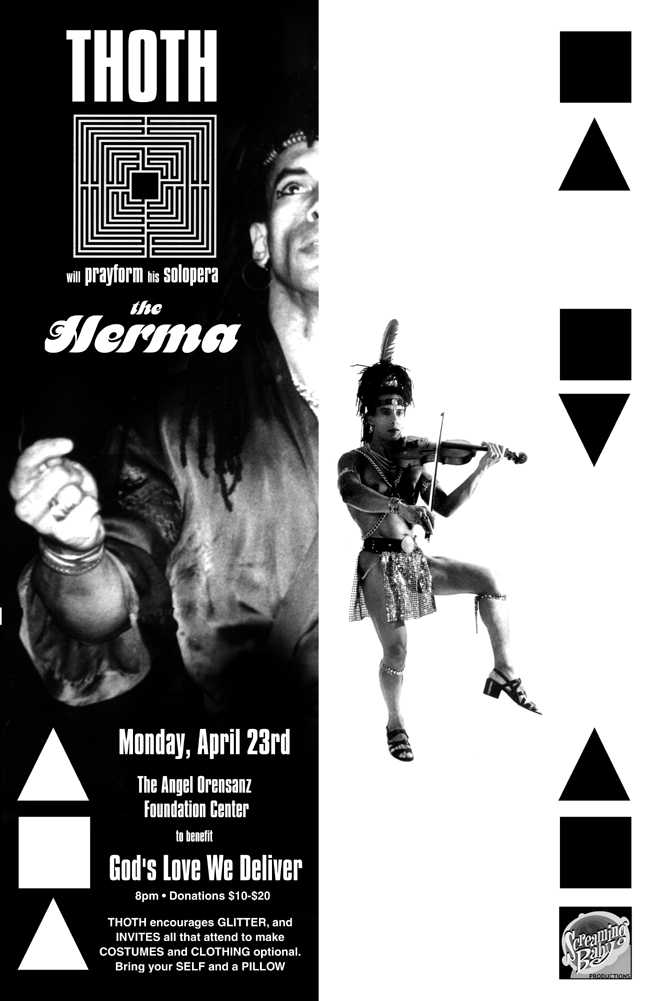 Thoth's solopera THE HERMA was presented for one night only at the Orensanz Synagogue.  Slides by Sybille Jud and Michael Whitney created moving lamps using a dozen candles in sand.  A Screaming Baby Production.
WHOLY HOLY a living installation
created by Eric Wallach
Chashama on 42nd Street
Before Chashama's theatre spaces on 42nd Street were shut down for demolition they held The Happening, February 2004.  Artists were given space to create whatever they wanted and the doors would be open at all hours over their last week.  I created a sanctuary of sorts.  Dedicated to the memory of the Lower East Side synagogues, Reza Abdoh and chashama on 42nd Street.
I broke off the door knob to the room and painted on the door the words, "Feel free."  Inside the room people encountered photographs of mine, lined up along the wall with other pictures of Lower East Side synagogues.   "Where can we come together?  When will we come together?"  In the room sat a stack of newspapers from 2002 alongside toy soldiers, candles and incense.  A tape player played an unending loop of Marvin Gaye's song, "Wholy Holy".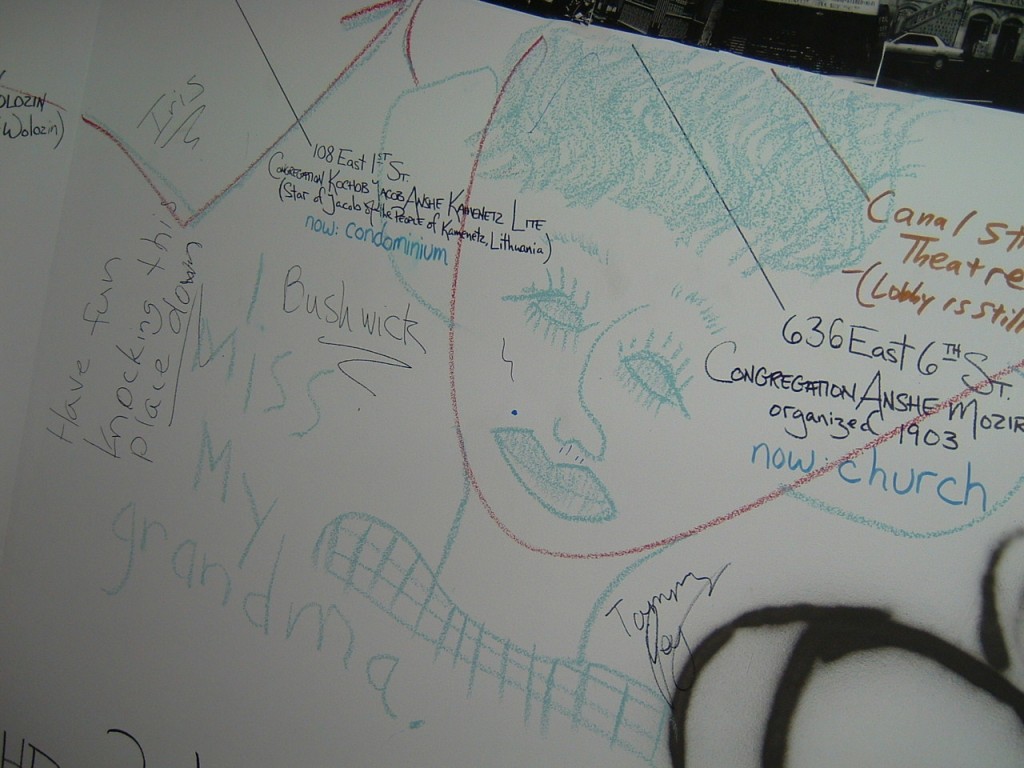 Throughout the week the room was tagged by people who wept there, shared and played there.
BAD REPUTATION
written, directed and starring Ms. Penny Arcade
Eric Wallach, co-director and co-producer
Performance Space 122, East Village 2000
"Staged and developed with Eric Wallach, Bad Reputation – even with its startling ending, which will turn some stomachs – is revelatory, compelling theatre."     –  Spears, In Theatre
CAIN
written and directed by Eric Wallach
Originally written with poet Erin Colligan Cain had one workshop production at the Flamboyan Theatre starring THOTH, the Hungry March Band and a cast of twenty.   Terrorism and faith, love and jealousy.
Cain wants to become a long one-act, it is a beast waiting outside the door.
DIDI AND THE RAMBLE:  Act III, Central Park

conceived, written and directed by Eric Wallach
created for Tiny Mythic's American Living Room
performed at HERE
Didi is now a postman who gets lost in Central Park and is beaten by a group of children selling lemonade.  Didi is then reunited with Gogo on the Lake.   They drift away singing "It's Only A Paper Moon".
The Didi Plays have not been performed together yet.
DIDI IN EXILE: a mobile 
conceived, written and directed by Eric Wallach
created for FranklinFest – A Tribeca Arts Festival 1996 & 1997
performed on the fire escape, street, and upstairs bar
at the Knitting Factory on September 28, 1996
starring Yehuda Duenyas
music: Jeremy Bernstein  costumes: Molly Gallagher
Didi tries to find his way outside of the theatre in a world of natives and exiles.  The mobile's improvisations, songs and games continually shift every minute.  Didi finally sends out a message in a bottle, given to a passing car driver.  "I miss you Gogo."  is what it says.  Haunting and fun.
DIDI ALONE: a scherzo in one-act 
conceived, written and directed by Eric Wallach
Didi Alone – a scherzo in one-act begins where Samuel Beckett finishes Waiting for Godot.  Didi and Gogo are now going through the death and grieving process.
Gogo sings "Ode to Joy" as he finally hangs himself.
SUC DADDY: an urban operetta
by Molly Gallagher (now Findlay)
Music by Jeremy Bernstein
Directed and produced by Eric Wallach
performed at The Culture Project, 1997
Suc Daddy is about "real estate, greed and lovin' gone stale" featuring the Brooklyn Ladies Social Club.  Our heroine Hurricane Fran hooks up with sugar daddy Hunka-Hunka Burnin' Love and spurns the love of the ice cream man Mr. Softee until she gets pregnant.  Then all hell breaks loose.
FUN
by James Bosley
Designed and directed by Eric Wallach
Williamstown Theatre Festival's Fringe     Massachusetts   1996
I designed, built and ran all of the technical aspects on this one.   We performed it all around the top floor of a church.
THE BREASTS OF TIRESIAS
by Guillaume Apollinaire 
new translation by Molly Gallagher and Eric Wallach
Directed by Eric Wallach
"The result: 45 manic minutes of amazing theatre."
–  Stewart, Time Out New York
"Hats off to TRIBE for presenting Molly Gallagher and Eric Wallach's adaptation of this wonderfully prophetic frolic."  –  Stone, Village Voice
MILLESGARDEN: an opera in thirteen paintings

Written by Eric Wallach and Keith Geller
Produced, Directed and choreographed by Eric Wallach
performed at Don Powell Theatre in San Diego, 1994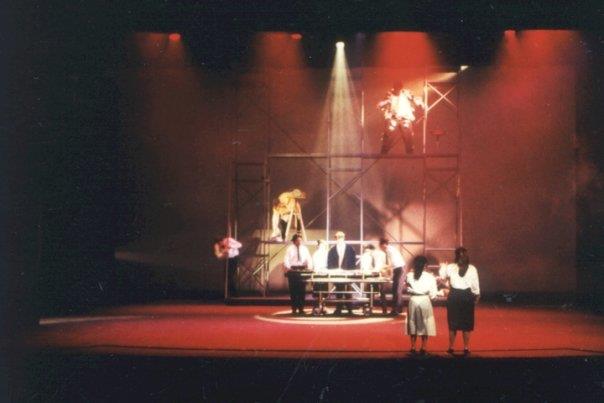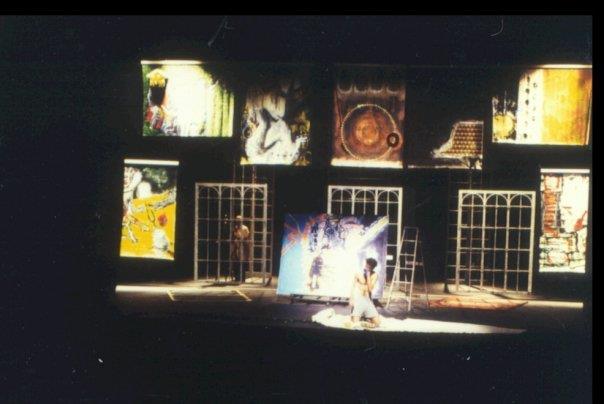 Created with a twenty-two member ensemble of dancers, opera singers and actors, this epic, fully-scored by composer Jeff Stone, told the life story of Swedish-American sculptor Carl Milles (1875 – 1955) and his final creation of his sculptural park Millesgården outside Stockholm, Sweden.
Millesgården wants a new production.
"TRIBE's first production has started it on one of the most interesting paths in local theatre."
–  Smith, San Diego's Reader
DUTCHMAN
by Amiri Baraka (LeRoi Jones)
Produced and Directed by Eric Wallach
Blackfriars Theatre, San Diego 1992
"Wallach did fine work with a young and intense cast on a bare-bones budget."
– Churnin, Los Angeles Times
"The staging is effective too – notably what director Wallach does with Diane Sedak and Ray Campbell."
– Martin, Lo Jolla Light